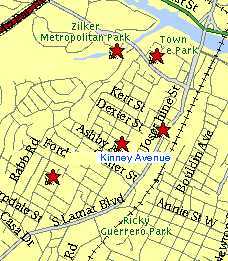 Zilker Neighborhood Association (ZNA) is in Austin, Texas.
Boundaries:
Town Lake on North, Union Pacific RR on East to Oltorf, then South Lamar to Barton Skyway on South, and RaeDell to Rabb to Robert E. Lee and including Zilker Park on West
---
---
Flamingos
---
---
Officers:
President: Robin Cravey
1st Vice President: Elizabeth Yevich
2nd Vice President: Deborah Bice-Broussard
Treasurer: Jane Kurzawa Cravey
Secretary: Steve Barnick
ANC Representative: Lorraine Atherton
Social Chair: Wendy Papasan
Newsletter Editor: Wendy Papasan
Newsletter Advertising: Fontaine Maverick
Zoning Chair: Michael Heffernan
Town Lake Park Representative: Kaye Trybus
Holiday Family Project Organizer: Barbara Cossie

Webmaster: Richard Gravois (rgravois@yahoo.com)
---
---
---
Voting Precincts: 332 (Zilker School), 462 (Parks & Rec Bldg)

Neighboring Associations
ZNA is a member of the South Central Coalition of neighborhoods (sector 7 of the Austin Neighborhoods Council):

and the Avenue Merchants Association

Other South Austin Neighborhood Associations:


Austin Planning_Area 17
Census 78704
---
---
---
General Membership Quarterly
Executive Committee Meeting
7 PM, February 23, 2004
Zilker School
1900 Bluebonnet Avenue
7 PM, April 6, 2004
Arts Rib House
Lamar & Bluebonnet
---
Zilker School HomePage
---
---
Theaters within our boundaries
Zach Scott
Zilker Hillside Theater"
---
---
---
---
ACC April26 Flyer (PDF)
---
SOON - AT A LAMAR PLAZA NEAR YOU!
We welcome Alien Scooters to our neighborhood! The current Alien Scooters store is located at 910 South 1st St. (447-4220 - shared phone no. with their fax machine). I met with Ann McSpadden this week. She and Daniel White have this business, and NEXT WEEK they will be moving to 1122B South Lamar Plaza. That address used to be a game room next to the Yoga class. Construction is finishing sooner than originally planned. They have about a dozen models, different colors, and have been letting the inventory lower for the move. Some look like bikes, some like skateboards. All electric, all varieties. One is intended to carry 350 pounds, and you can hook a little trailer to it. I also saw a model that has pedal assist! (in case a battery ran out I suppose)
In addition, so they can live close to their work, if you hear of an affordable home for sale in our area, they have Alien Scooters website from which you can send them email.
And phones:
Ann McSpadden 799-4874
Daniel White 963-9867
I've already seen several scootin' around Zilker. Since it's hard to hear them, you have to be on the lookout.
-Bobby
---
This is for widespread Zilker distribution. -Bobby
Sometimes concerns arise from neighbors about a CITY related or regulated activity. Maybe you need the number to report a traffic light out. Or you may wonder what exactly is zoning, and what is your property zoned? Maybe you have no big emergency, but curiosity prompts a question on exactly how some law is enforced. There's no single source for all answers. But here are some practical sources to get the answer or service faster.
1) Austin has a frequently asked questions website:
2) At that website, scroll down to "Other City Departments' FAQ's"
For neighborhoods select: Neighborhood Resource Guide
3) Customer Service Directory (select A to Z)
Not everyone is internet connected, so for telephone solutions:
City of Austin's INFORMATION AND REFERRAL 974-2000
Zilker's APD District Representative, Mike Summers 974-8241
Neighborhood Planning and Zoning Department 974-7695
Report a traffic signal out 457-4851
24 Hour Electric Dispatch 494-9400
---
---
---
Upcoming Events!!!
---
Other Links:
New Stuff


Executive Committee Minutes June 1999
Executive Committee Minutes May 99
---
Traffic measures
Traffic Calming devices

---
---
ZNA Bylaws
---
---
Advertisers:

Henry Benedict, KaleidoProperties, City Market, Southside Printing, Kenny Hill Automotive, Jeff Jack, Jane Cravey,

Go Shopping nearby
---
Interesting URL's