Why is the City of Austin fixing to remove the pink flamingo display from the traffic-calming median in the 700 block of Kinney Avenue in South Austin to replace it with landscaping?

When I read about this in the newspaper Thursday, I thought, "Hands off the birds, yuppie scum."

"It's pretty much in keeping with them not being sensitive to neighborhood environment, so what is new?" said Shelly Botts, a self-employed executive recruiter who lives a couple blocks from the flamingos.

I'm starting the save the flamingos movement. Go chain yourself to a flamingo. Why put in plants when you've already got a cat statue, toy guitars, a Barbie doll in black evening attire, four pink flamingos (one of them decorated with a brassiere), Mardi Gras beads, a spinning pinwheel, a plastic doodle bug, a newly added birdbath and a bunch of other stuff?

The decorating work has already been done by the neighbors for the city, and the plants will just make people sneeze. And we're talking quality products here. The flamingo sporting the brassiere is your Realmingo model from Union Products in Leominster, Mass. — in other words, the real thing.

"One hundred percent guaranteed plastic," said Pat Swanson, owner of Pots & Plants, the store on Bee Cave Road that recently sold flamingos to Bill Clinton.

Besides, the artwork is part of the natural order of South Austin. You wouldn't throw mud on a Picasso, would you?

People say the median job began 10 days to two weeks ago when the initial flamingo popped up. Although the neighbors aren't sure who among them is decorating the median, because they don't see the artists at work. Apparently most of the action occurs after dark.

"It all started in the night, like the Easter Bunny," said Ed Gonzales, who lives next to the growing display. "It started out with the big flamingo, then it had a tie, then it had a brassiere."

Nan Rose, a masseuse at the Four Seasons Hotel who lives across the street from Ed, is thinking of adding a St. Francis of Assisi: "I have a friend who imports statues from Guatemala."

Before the artwork began to show up, the median was an ugly patch of bare soil, since the city hadn't planted anything in it. Now it's a mini tourist attraction.

"Look at the duck, he's awesome," Shelly said. "A rubber ducky with sunglasses on. He's funny. Somebody came and did quite a bit of decorating."

She's even considering improvements. "One thing I think it really needs is one of those glass balls. A glass ball, and Christmas lights that only half of 'em work. And a sofa or a recliner. You know, that velvety kind that has deer and trout on it."

Best of all, the art helps the median do what it was intended to — discourage speeding.

"It's kind of a blessing," Ed said. "When they put in the speed bumps, everybody wanted to see how fast they can take it. But now with this, they slow down and say, 'What the hell is that?' "

So, City of Austin, take your landscaping plants and stick 'em north of the river where they won't disturb the decor.

John Kelso's humor column appears on Sundays, Tuesdays and Fridays. Contact him at at (512) 445-3606 or jkelso@statesman.com.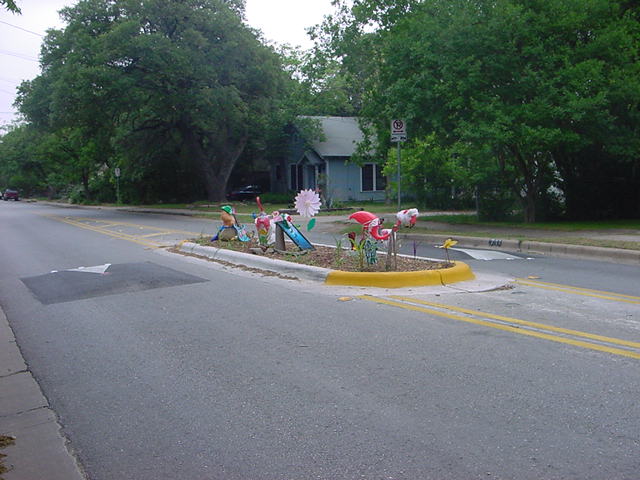 ---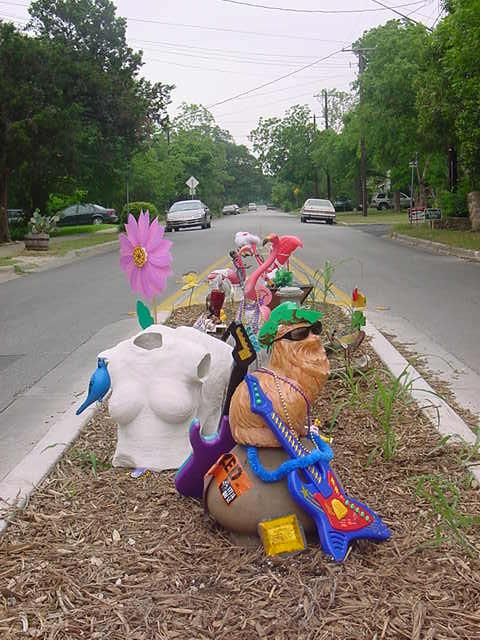 ---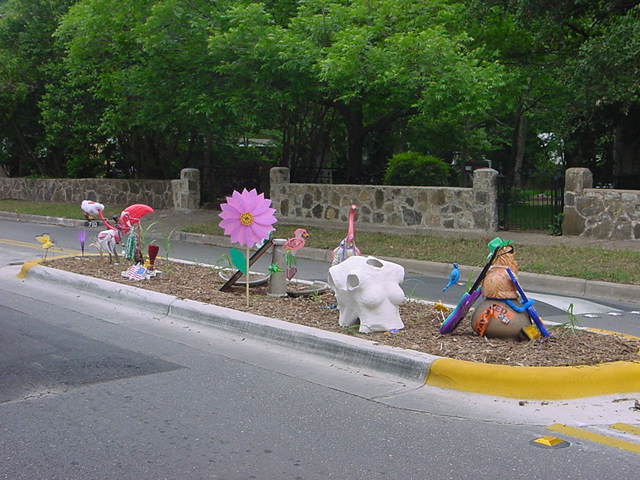 ---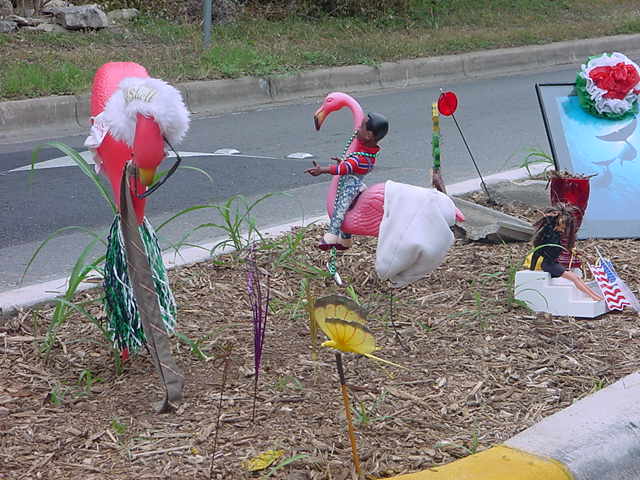 ---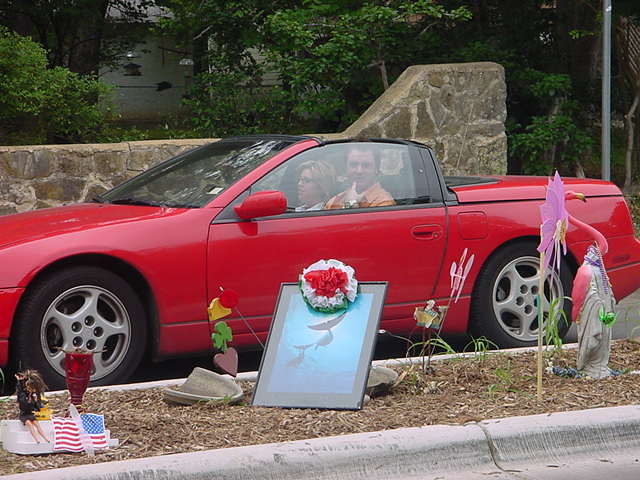 ---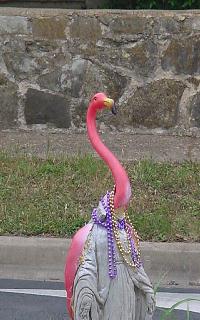 ---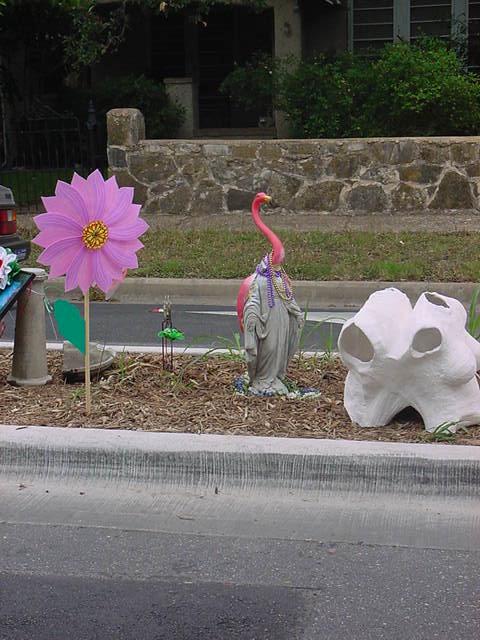 ---